Top Chef exit interview: Jennifer Carroll
Jennifer Carroll was interviewed by Steve Cavendish for Chicago Tribunes, The Stew.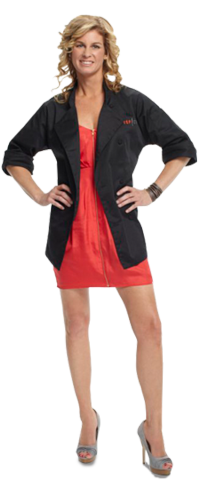 Note to self: Don't mess with chicks from Philly.
Jennifer Carroll's reputation for being a strong presence in the kitchen was done no harm by her exit from "Top Chef" All-Stars. Defiant to the judges and mad as hell about having to pack her knives and leave, she kept her contempt barely beneath the surface until she walked out of the Stew room and unleashed a torrent of profanity.
How bad was it? Her boss, Michelin three-star chef Eric Ripert, apologized for it on the Bravo site in his video blog. Carroll herself backtracked on the web the next morning, noting her respect for the judges and her competitors.
The Stew caught up with Carroll for an exit interview where she discussed high expectations, Jamie Lauren's stitches and Ripert's comments
You were at the center of one of the most tense judging moments in the history of "Top Chef," what was going through your mind when it became clear that your group as a whole was on the losing end of the challenge?
When it became clear that my team was on the losing end, it was disappointing and upsetting to me. I didn't want to be on the losing team and I didn't think our team was in the loser's circle, but obviously, we were.
Click
here
to read the rest of the very interesting interview.