Top Chef Yigit Pura Offering Pumpkin Tarts for Thanksgiving
Lifted this story from SF Weekly.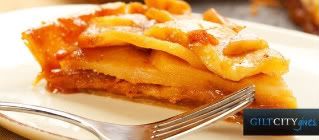 Want a slice of Yigit Pura, winner of Top Chef: Just Desserts and pastry chef for S.F.'s Taste Catering? After we reported that Yigit's single, with dreams of opening a dessert shop with his Bravo winnings, we found out we can actually get a taste of this cutie pie without waiting for his dessert house to launch. For Thanksgiving, Pura is selling his pumpkin custard tart, with all proceeds benefiting people in need. Order one of Yigit's $35 tarts online through Gilt City, and 70 percent of proceeds go to SkillsUSA, a national charity that supports career and technical education. You can pick up the tart Wed., Nov. 24, at HELLO The Candystore Collective (2226 Bush, at Fillmore), between 11:30 a.m. and 6:30 p.m. You get to give back, support a great cause, and get a Yigit pumpkin pie on your Thanksgiving table. As Yigit would say, nothing wrong with that.
You have until tomorrow at noon to order ― unless they run out sooner.