Top Chef Masters - Final Previews
Here we go into the final.
Click
HERE
to see - Meal of Their Lives The chefs must create a series of dishes based on their careers.
Click
HERE
to see - One Final Surprise The chefs should have known there would have been one more surprise waiting for them.
And click
HERE
to see - Rick's Risky Move Rick explains the dish that made him want to be a chef.
and who are the judges for the final?!?!?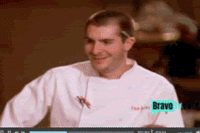 YES!!! all 5 Top Chefs.
Wow the shoe is on the other foot now.
Enjoy!!!
Labels: top Chef Masters Previews