Padma Laskmi leaving Top Chef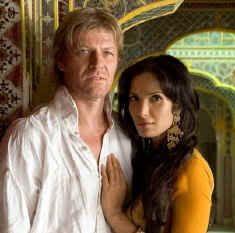 Obviously never having seen any of her film or TV work herself, Padma Laskmi
to star in NBC sitcom
.
"
No-doubt to the chagrin of "Top Chef" viewers around the world,
Variety.com
is reporting
Padma Lakshmi
is ready to hang up her reality-show spurs and move along to the greener pastures of
network
prime-time situation comedy. And while fans of the
Bravo
cooking competition will have to make due with a new hostess following the conclusion of its sixth season,
NBC
is hoping it can inspire some of those fans to mix in Lakshmi's acting chops to their television diet.
Tentatively titled "
Single
Serving," the show will reportedly feature Lakshmi playing a woman who works "in the culinary world," and, if the title is any indication, probably dates a lot (with ensuing hijinx). According to
Variety
, 38 year-old Lakshmi is currently "kicking around" ideas for the show with writers and producers.
The Indian born actress/cookbook author's previous screen credits include playing the character "Sylk" alongside
Mariah Carey
in 2001's "Glitter," as well as a supporting role in the 2005 Bollywood sleeper, "The Mistress of Spices." The news of Lakshmi's development deal with NBC comes fresh off the heels of her recent Emmy nomination (along with co-host, Tom Colicchio) in the category of "Best Reality Competition Host."
Source: www.actressarchives.com