Top Chef Tour-DC
Hi guys,
I'm sorry for the delayed report from the Top Chef Tour stop in Washington, DC. Last weekend was beautiful and the 70 seats were full, and about 30 people were watching from outside the tape. Those lucky enough to reserve seats or show up early were able to taste the recipe from the session- Spike's softshell crab sandwich with sriacha mayonnaise and a pickled slaw. Local top Chef's, Spike and Carla hosted the day, alternating sessions between chef and helping hands. The Bravo reps said that the recipes would be on the website (
thetour.bravotv.com
) but they aren't up yet.
Carla really is as amusing and lovely as she seemed on tv. She is busy with her catering company- Alchemy Caterers. She is hoping to open a space in DC (she is currently based in Wheaton, MD) where she can cook for private dinners, host catered events and occasionally teach cooking classes. She is also teaching cooking classes around town.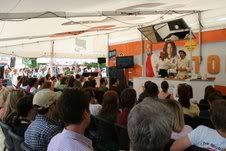 Spike has been busy with his burger joint- Good Stuff Eatery on Capitol Hill. He is researching New York pizza for his next place- next door to the Good Stuff. (
http://nymag.com/daily/food/2009/05/spike_mendelsohns_new_york_piz.html?imw=Y&f=most-viewed-24h5
). He is flying pizza ovens over from Italy and planning to cure the meats for his pizzas, and make pastas, in-house.
Their favorite restaurants in DC-
Spike: Good Stuff, Zaytinia (he likes small plates vs. large entrees), Oyamel and 2 Amys
Carla: Good Stuff, Cork, Pho 68 (in Rockville)
Top Chef Tid-bits:
Stefan calls all the cheftestants all the time.
Spike originally tried out for Season 3
In response to the much publicized comments by Casey regarding her loss- Carla called Casey and told her that she did not blame her for her finale loss. She said that Casey felt attacked and responded as such , but she didn't blame her. The crowd responded with calls for Carla's side in the "conflict."
A big thank you to Ali B for such a great job. Those of you who have sent us tour updates, I will get them up, I promise. To those that went and didn't write something, come on and send some pics or something.