Top Chef Tour 2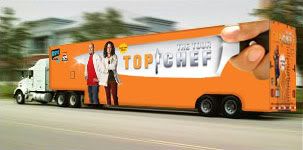 Bravo has released the dates for the Top Chef Tour 2.
New York, N.Y. March 27-28
Hollywood, Fla. April 5
Delray Beach, Fla. April 6
Jacksonville, Fla. April 9
New Orleans, La. April 14
Houston, Texas April 17
Dallas, Texas April 19
Little Rock, Ark. April 21
Nashville, Tenn. April 24
Hopkinsville, Ky. April 27
Louisville, Ky. May 1-2
Atlanta, Ga. May 4
Raleigh, N.C. May 6
Washington, D.C. May 9
Westchester, N.Y. May 13
Boston, Mass. May 15
Pittsburgh, Pa. May 20
Columbus, Ohio May 23-24
St. Louis, Mo. May 27
Chicago, Ill. May 30-31
Des Moines, Iowa June 6
Los Angeles, Calif. June 12, 13
If you can go to any of these dates, contact us ASAP. We are trying to secure 2 press passes per event but we need to get the names to Bravo ASAP. So, hurry up. First come, first serve.