Shout Out!
Hello, my name is chef biatch and I am a Bravo Whore.
Hello chef biatch.
Are you a Bravo Whore too?
Need a Bravo fix until the next season of

Top Chef

? Well, do yourself a favor and watch
The Real Housewives of New York
. I wasn't a fan of any of the housewife shows but my blog partner, Sous Chef Humor, is a
Real Housewife's of Orange Country
junkie. She kept telling me I must watch the show, it was hysterical. I was like nah, not my type of show.
Then, one of my all-time favorite blogs,
Pretty On the Outside
,
had a kinda
recap
done by its brilliant owner, David Gilmore. If you're not familiar with POTO I highly urge you to leave this blog right now and check it out but be sure to come back! Gilmore is a great artist too. His drawing are amazing and
for sale
! So, thanks to SCH and Gilmore, I am addicted to both shows and to
The Real Housewives of Atlanta
too!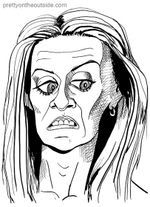 Gilmore writes about lots of things other then
Bravo
shows, be sure to check out the ongoing series about his
10 yr old nephew and his mannequin Martinique
and the
Prop 8 Portraits
, so I'm sure you'll find something that interest you to read if you are not a Bravo whore.*
So, be sure to stop in and check

Pretty On the Outside

out for yourself.
Got any blogs you like to read that covers a Bravo show, among other topics? Send us the link and we will give it a shout out.
Be sure to check out the blog,
David Dust, Hotties, Recaps, and Gay Stuff
.

If you are not already familiar with this fabulous blog and its owner, David Dust, I will **tell you all about it in my next Shout Out!

*WTF are you doing here if you are not a Bravo Whore?

** If yall expecting proper grammar and shit like that, yall might as well stop reading now.