Sunday Roast
Sorry there was no Roast last week. Do you know how hard it is to try to do a Roast when you couldn't care less about an episode? No, that's not correct, I did like the episode but I hated the fact that Leah stayed another week. In a perfect world, Leah would have left last week and Hosea this week.
Also, my PhotoShopper, the HoInMo, was having computer problems again so that meant I would have to depend on my razer sharp wit to get the Roast going. Well, this week, the HoInMo is in the hospital. That bitch will do anything to get out of doing PhotoShop for me! Get well sis, my wit is as sharp as Toby`s so I need your help.
And to top things off, Bravo has reworked their website and I can no longer snag pics from them. Since I tend to wait until the last possible minute to do the Roast, this leaves little time for my blog partner to try and rescue my lazy ass.
Combine all these things and you get no Roast.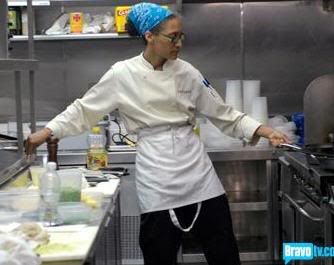 Look at my girl work it. No joke here, go Carla!
The pissing contest went something like this...
Tom: "

You've heard I'm a Bear icon, right

?"
Jacques: "

I`m JacquesMotherFuckingPepin

."
Jacques won.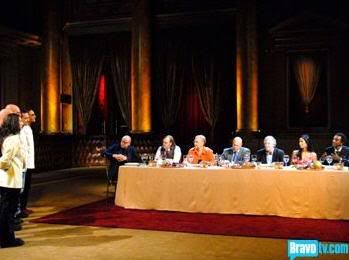 The Apostles gazed upon the table and thought "Holy shit! Is that really Jacques and Lidia?
"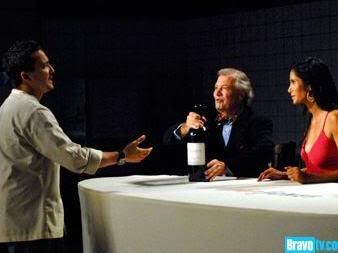 Is it me or does Jacques look drunk and Fabio looks like he is trying to talk the bottle away from him?
Fabio: "

Comma ona, Jacques, you'va hada enougha."
Jacques: "

I'm JacquesMotherFuckingPepin and I was cooking before you were a twinkle in your daddy's eye!"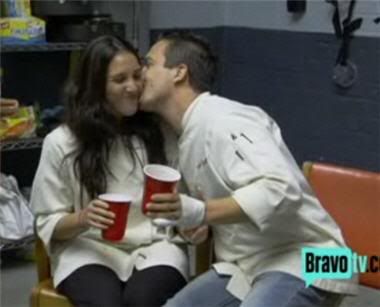 Leah:"
Top Pussy? Where do I go to try out for that show
?"
Fabio: "

Blessa youra lil hooker hearta

."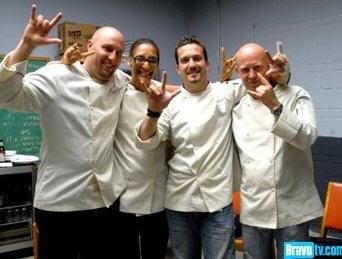 The Leah Slayers rejoice!
Yall`s turn.