Sunday Roast
Yeah, Yeah, the Roast is late. Bravo decided to redo their site and that's where I've been getting my pictures since I can't seem to figure Snag-It out. Plus, I didn't realize it was Sunday. This also means I had no time to get any Photo Shop work done. Damn, I feel like I just told y'all the Easter Bunny isn't real*.
Oh well, enjoy.
Seriously, WTF was the point of Padma wearing a referees shirt and why does it annoy me so much?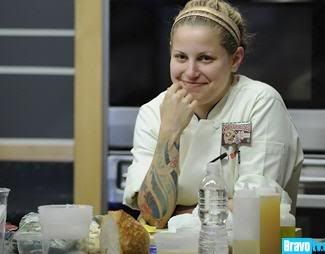 The rare, elusive ' Smiling Felis Domesticus Lipstickis Lesbiancus' is captured here. Notice the absence of flannel, softball uniform and armpit hair.
Jeff, a flamer? Who knew!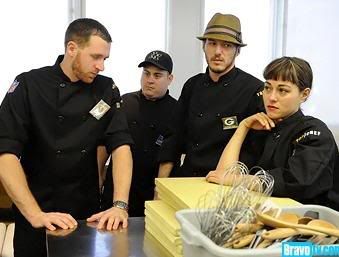 Looks like Camille(who?) and Melissa(who?) are trying to bring bangs back. Since when are bowl cuts on chicks sexy?
OK, is the guest judge(didn't care enough about the douche bag to remember his name) about to punch Spike? Now that's an episode I would have watched over and over.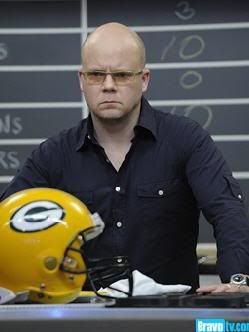 Looks like Toby just realized he is this seasons Katie Lee Joel.
This is EXACTLY the pose I strike after my fourth cappuccino from McDonald's but unlike Andrew, I'm normally in my jammies and screaming at the poor guy at the register that I don't care if its only 7:30, get my fries now!
Your turn.
*The Easter Bunny is totally real, BTW. Santa too. But not that Tooth Fairy bitch. I wish there was a Diet Dr Pepper fairy. Fairies kick ass.