The Good, The Bad, The Ugly Epi.4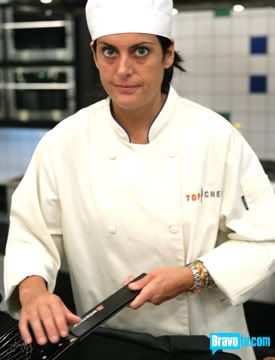 The Good -
- I am gonna say this today (even though it's technically NOT on this episode), I'll say it next week and maybe even again the week after but Padma's hair looks AMAZING on the previews of Gail's shower!
- It was nice to see Ariane win! My boyfriend thinks she's the Lee Anne of Season 5 (she's always gonna be "right there"). Who cares if she did a salad? She did something really well and something people CAN actually make at home!
- Who doesn't love a breakfast quickfire? :) I think I would have liked Carla's pancakes and fruit (is that the second week I liked Carla's dish best?? LOL)
- The sensitive way in which the chefs handled watching the 3 "winners" compete on the Today Show (OK at least from what we saw on TV!)
The Bad -
- I still can't a feel for whether I love or hate Rocco DiSpirito (I couldn't put him under the Ugly category because clearly he's not!) I think I hated him in Season 3 and laughed at Joey's bluntness towards him, but now he's kinda growing on me - oh I don't know! LOL
- Daniel - love ya buddy and the dish looked pretty good but the "smoking up the kitchen" idea? - not good!
- I suppose we gotta throw in the raw egg here now - don't we?
- The food spitting. If those shrimp were too hot for Tom? And it's always good to see Kathie Lee choking on morning TV - NOT!
The Ugly
- The budding romances. Are Hosea and Leah really dating now? If so, good for you Hosea - I landed someone from Scarsdale too! Now, what's the dirt on Stefan and Fabio? LOL But now next week we see Jamie saying Stefan has a crush on her?? Oh Lord - I guess Jen and Zoi really left the door open for all this to go on!
- Leah's "phone it in, I have immunity" attitude in the elimination. We all know where that got Daniel Vosovic on Project Runway 2 - almost eliminated!
- The "loser edit" that Alex got. First he's reading Richard's very emotional letter to only 2 people (although we don't know if others actually DID get to see it). Next he's worried about his wedding, then he's going home! How did he go from such a fierce competitor to phoning it in and packing his bags?
If I think of anything else I'll include in in the comments - thanks all :)
TrishDish, sorry this is so late. CB