Dinner With Sam Talbot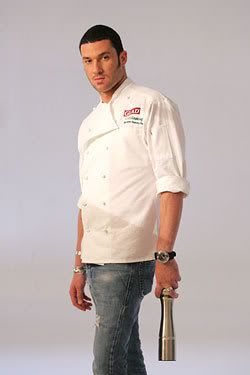 Got this a little late but there is still time,
"Sorry for the late notice, but I thought your readers would enjoy hearing about this cooking event in New York featuring Sam Talbot from Bravo's Top Chef Season 2.
Here are the details:
Celebrate the end of summer with this seafood inspired menu using seasonal local ingredients from our neighbors- the Union Square Green Market. This will be a 4-course meal paired with Wine and Champagne created by Top Chef's own Sam Talbot.
Sam Talbot Dinner and Wine Pairing
Wed 9/24 (7PM) @ Vintage Irving
118A E. 15th St. New York, NY
This is a 21+ event.
Cost: General Admission $150.00
Buy tickets here:
https://newyork.going.com/event.php?event_id=377795&type=ticketing&step=select
"
so hurry up and buy your tickets! Feel free to send and pictures and/or reviews our way. We love to hear from fellow TC addicts!
Thanks Orli
We got a little more information from Marie,
"Top Chef finalist and
culinary expert Sam Talbot will kick off Vintage Irving¹s Celebrity Chef
Tasting Dinners on Wednesday, September 24th with an original four-course
tasting dinner with wine pairings. Talbot is the first of a number of
nationally acclaimed culinary figures that will be joining Vintage Irving¹s
executive chef Jason Bunin and the Vintage Irving team on a quarterly basis
to host unique and educational tasting events in the intimate setting of the
restaurant's private tasting room.
Vintage Irving¹s owner, Michael Sinensky, is implementing this exciting
culinary program to expose his patrons and the New York community to
one-time only events that they might otherwise not have the chance to
partake in. Vintage Irving is a newly opened restaurant elevating the New
York dining experience by presenting seasonal, local ingredients inflected
with the culinary styles, preparations and flavors from all over Europe and
the Mediterranean in a ³small-plate² manner, ideal for sharing, at an
affordable price. Staying in theme with the restaurant`s mission, the
Celebrity Chef Tasting Dinners program will further allow guests to expand
their cultural and culinary awareness in an informal, comfortable setting
with excellent wines, welcoming service and warm company, all part of the
Vintage Irving experience.
Sam Talbot will be cooking and presenting a four-course, seafood-inspired
meal using local produce sourced from the Union Square Green Market. Each
course will be paired with wine and champagne. Tickets, $150 per person, are
currently on sale and based on availability. Space for each event is
limited to 60 seats. Vintage Irving is located at 118A East 15th Street. To
purchase a ticket, please contact Vintage Irving at (212) 677-6300."
Thanks Marie
Labels: Sam Talbot.