Top Chef Tour - San Diego
Swinging our way out to the west coast, our guest chef and field reporter Loryn shares her wonderful day with Chef Brian and Chef Ryan in San Diego.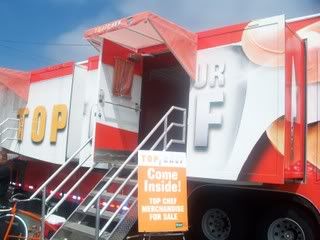 Top Chef Tour: San Diego



I had a bit of a hard time finding the big Top Chef bus hidden near the beach in San Diego, but I finally did and made it about 10 minutes before the first show. I found our contact Fred, signed in and stood in the queue with the 30 or so other fans who were waiting. Pre-show, we caught glimpses of both the featured chefs for that day, Brian Malarkey and Ryan Scott, preparing the bus kitchen. I have to say it was pretty fun to see them sweeping and getting in their jackets. Of course, Brian was sporting one of his signature hats.


Since I was on "the list," we were brought in first, and my son and I were able to get seats in the second row. The chairs were so closely packed however, we were still only about two feet from the chefs' workspace. TVs were situated on either side of the seating area so that people further back could still get an up close view of what the guys were working on.


The two cheftestants were introduced and came in. They gave us a rundown of what we would get to see, which was them preparing an appetizer course for us, while they told us anecdotes about their show experiences, and fielded audience questions.

Click
HERE
to read more and to see more pictures.
Also click
HERE
to check out her YouTube Video,