Padma Disappoints At UCLA‏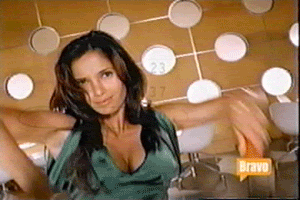 From our mailbox, the following experience with
Padma
. She kind of "knifed" one of her fans!
"I attended the Los Angeles Times Festival of Books again this year and was really looking forward to meeting Top Chef alumni C.J., Betty, and Brian and especially the host herself,

Padma

Lakshmi. The trio of former

contestants

could not have been nicer, and all three graciously signed my copy of the new Top Chef cookbook. I don't know whether it was the heat (the temperature was nearly 100 on Sunday) or some other issue, but

Padma

treated her fans with something bordering disdain.For my part, I watched the first part of

Padma's

presentation at the Culinary Stage and then waited in line for about an hour for an opportunity to meet

Padma

and have my book signed. When it was finally my turn, she was preoccupied with members of her entourage and only looked up after I said hello. She then glanced at my copy of the Top Chef cookbook, and stated in a very curt manner that she wouldn't signed it. I was dumbfounded and when I asked why, she replied with a rhetorical question, "How can I sign something I didn't write?" She then turned towards the next person in line who,unfortunately, received the same treatment.Interestingly enough, a copy of the Top Chef cookbook signed by both

Padma

and Tom is currently being offered for sale at
abebooks

.com
I've attended the Festival of Books off and on for the past 12 years and have never seen a writer/celebrity act so dismissively towards their fans."Truly disappointing.Brad
Thanks Brad for sharing this with us. We are also sorry you were disappointed.
Labels: Padma Lakshmi